Dental crowns are similar to dental veneers, but they work to support and strengthen weak, damaged, or worn teeth. A dental crown is a covering that encases an entire tooth. At Belle Rive Dental Clinic, we offer our patients dental crowns in Edmonton to help restore their teeth and maintain their oral health.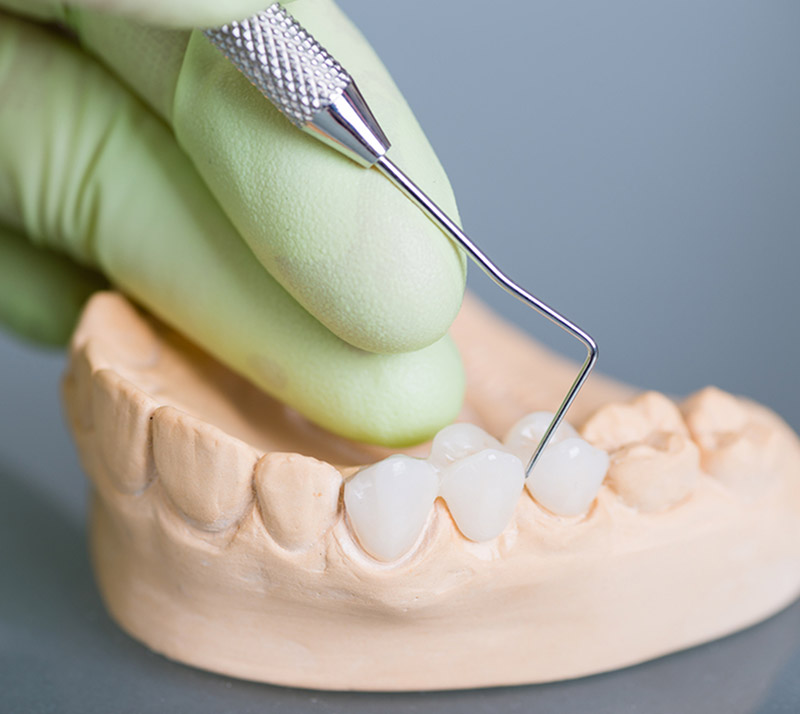 When Are Dental Crowns Required?
Dental crowns serve both cosmetic and restorative purposes in dentistry. They are essential in providing support to weakened or broken teeth. Untreated dental issues can lead to problems such as jaw pain, headaches, and bite alignment issues. Our dentist may recommend a dental crown to:
Protect weakened or soft teeth
Support teeth with large fillings
Anchor bridgework
Cover a dental implant
Create a healthy bite
Rebuild a tooth after a root canal
What Are the Types of Dental Crowns Available?
Dental crowns fall into three categories: metal, porcelain fused to metal, and porcelain. Our dentist will assess your oral health and discuss which option is best for you, but each option comes with its own set of advantages:
Metal crowns– these crowns are extremely durable and are very well tolerated by the gums. These characteristics make them an ideal material for dental crowns. Metal crowns offer the longest restoration, but they don't look like natural tooth enamel, so they are most often used for molars where they won't be quite so visible.
Porcelain fused to metal crowns– these use metal hidden under a ceramic layer that closely resembles the tooth enamel. Due to their metal cores, these crowns sometimes show their metallic color in certain lights, but they are more durable than porcelain crowns and more natural-looking than metal crowns.
Porcelain crowns- these crowns offer the most natural appearance and are almost indistinguishable from natural teeth. Due to advancements in ceramics technology, they are almost as strong as metal crowns, and for this reason, they are the most popular choice for dental crowns.
How Are Dental Crowns Placed?
When you first visit Belle Rive Dental Clinic for dental crowns near you, our dentist will provide you with a local anesthetic to numb your tooth and its surrounding tissues before preparing it to receive the dental crown. Preparation will include our dentist filing and reshaping the tooth to properly fit a dental crown. They will then take impressions of your bite so that they can create your custom-made dental crown.
If you are getting a same-day porcelain crown, then you will only have a 20-minute wait, but metal and porcelain fused to metal crowns take more time to create, and in this case, you will get a temporary acrylic crown and be asked to return in a few weeks to get your crown fitted. In either case, our dentist will use a special dental cement to secure the crown in place.
Caring for Your Dental Crowns
Your new dental crown will look and function like your natural teeth, and the best way to look after them is by following an excellent oral hygiene routine of brushing twice a day and flossing once a day. You should also ensure that you visit our team at Belle Rive Dental Clinic at least once every six months for a professional dental cleaning and checkup. Please do not hesitate to contact our team to schedule a consultation today!