If you have one or more missing teeth, then it is important that you look for replacements as soon as possible. When there is a gap in your smile, your remaining teeth can shift in an attempt to fill the gap, causing problems with your bite. At Belle Rive Dental Clinic, we offer dental bridges in Edmonton as an option for tooth restoration. Read on to learn how you can benefit from dental bridges near you.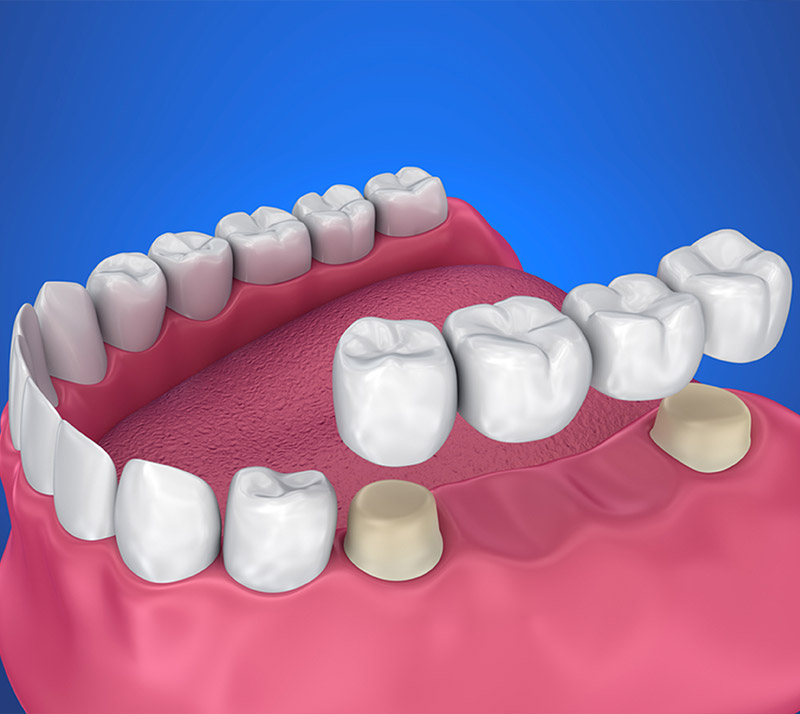 A dental bridge is a group of connected dental crowns typically made out of porcelain or ceramic. Held in place by dental crowns placed over the two neighbouring teeth on each side of the gap, a dental bridge fills the gap created by missing teeth to protect your oral health and restore your smile. Whether you are missing one or multiple teeth, you can benefit from dental bridges near you.
What Are the Benefits of Dental Bridges?
The main benefit of a dental bridge is that it closes the gap created by a missing tooth or teeth, filling the space with a false tooth. In doing so, a dental bridge restores your speaking and chewing abilities while enhancing the appearance of your smile and boosting your confidence. Additionally, dental bridges prevent the need for further, more invasive dental treatments by preventing teeth from shifting inappropriately.
How Are Dental Bridges Placed?
It typically takes two appointments to get your dental bridge fully placed. Our dentist near you will administer a local anesthetic at your first appointment before preparing the teeth on each side of the gap for the dental crowns. Next, they will take impressions of your teeth, which they will send over to a dental laboratory where your custom dental bridge will be made. You will then be given a temporary bridge to protect your teeth until your custom bridge is made.
About two weeks later, you will need to return to Belle Rive Dental Clinic to have your permanent dental bridge fitted and shaped. Our dentist will place the dental bridge using special dental cement and make any necessary adjustments to ensure that it fits correctly in your bite.
Looking After Your Dental Bridges
Dental bridges are very durable and natural-looking and can last you several years with the right care. You must ensure that you clean your dental bridge properly, which means that you should add a few new cleaning tools to assist you with your oral hygiene routine. A dental floss threader will allow you to get underneath your dental bridge to keep the underlying teeth and gums clean. You may also benefit from using a water jet to blast trapped food particles out from beneath your dental bridge.
As always, you will need to visit your dentist at least once every six months for a professional dental cleaning and exam so that your dentist can monitor the health of your teeth and the quality of your bridge as time goes on.
Interested in Dental Bridges Near You?
If you have missing teeth and feel that dental bridges may be the right option for you, please get in touch with our team at Belle Rive Dental Clinic. We are happy to offer dental bridges in Edmonton so that our patients can restore their smiles and protect their oral health.